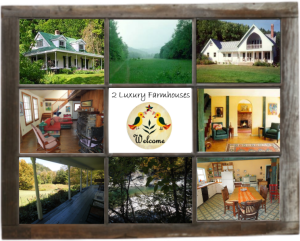 Two beautiful farmhouses at the end of the road, each sitting in its own secluded meadow sloping down to the White River. Total privacy, with 2 great swimming holes right on our land. Each house wonderfully furnished, with very full kitchens, lovely fireplaces, linens and firewood provided.  Each house has 2 full baths, dishwashers, washer/dryer. 
This beautiful site was once the home of the "Gaysville Campers", a summer camp started in the early 1920's by two women schoolteachers from Chicago. Every summer they would arrive with a busload of kids they had brought with them from the city. They eventually passed the operation on to one of their students, who, with his wife, kept the camp going until about 1970, when the state demanded that the camp install indoor plumbing.
The foundation of the old camp became the foundation of the center portion of the "Meadow House". Based on the number of former campers who come back to this spot with warm memories, it was clearly a very special place. We think certainly believe that it is and we have done our best to preserve and nurture the spirit of this place. We hope that you consider visiting, and that your vacation will give birth to many wonderful experiences.